I wanted to share with you about Operation Railroad Underground that doTerra's Healing Hands Foundation are sponsoring.   Its touched my heart is so many ways and I feel sure it will touch yours.
I was shocked to hear that there are more people sold into slavery than ever before in the history of the world – it is estimated there are about 35million. Over 5 million of them are children and 2 million of them are forced into sex slavery.
There is an incredible man called Tim Ballard who has dedicated his life to rescuing these children and getting there perpetrators imprisoned.  In 2 years he helped rescue 459 victims and is continuing today.
This picture is from one of OUR's very first operations. The operation took place just a few weeks after the official foundation of the organisation. Ballard was undercover, playing the role of an American trafficker vising Haiti to purchase a child for sex.
OUR had received some information about a facility in Haiti that was selling children, masquerading as an orphanage.  Haiti is one of the largest human trafficking countries in the world so the team knew they needed to take the opportunity to visit the country.
The facility manager was selling the children for $10,000–$15,000 each; she is pictured above Ballard's left shoulder in the photograph. These children were being sold into sex trafficking, sold for slave labor, or sold for organ harvesting. When Ballard entered the facility, he was only planning to purchase one child.
"I knew exactly which one I had to purchase," Ballard said. "There was a little boy, his name is Colet. I didn't know why, but I knew I had to select him. So I picked him up and began walking around this very dark facility."
As Ballard held this little boy, the child noticed the dog tag around Ballard's neck and immediately became affixed. The boy pulled the necklace off Ballard's neck and placed it around his own. The dog tag was a replica of one given to Ballard by one of the first children he had rescued from a sex trafficking situation nearly 10 years earlier.
"So I'm holding this child – this slave that's for sale – and he pulls this necklace off my neck and puts it around his neck, and it says 'Operation Underground Railroad.' And here I am, trying to be this tough trafficker, and I'm biting my lip so I don't start crying. The emotion in that moment was overwhelming for me."
"It is the necklace that has become so symbolic of our organisation," says Ballard, making mention to the strong symbolic ties to this experience as well. Looking closely, the necklace can be seen draped across the arm of the little boy in the photograph as he wears it.
Ballard wanted to gather as much information about the facility as possible while they were there, so his team of operators distracted the perpetrators as he scouted around the facility, still carrying the child.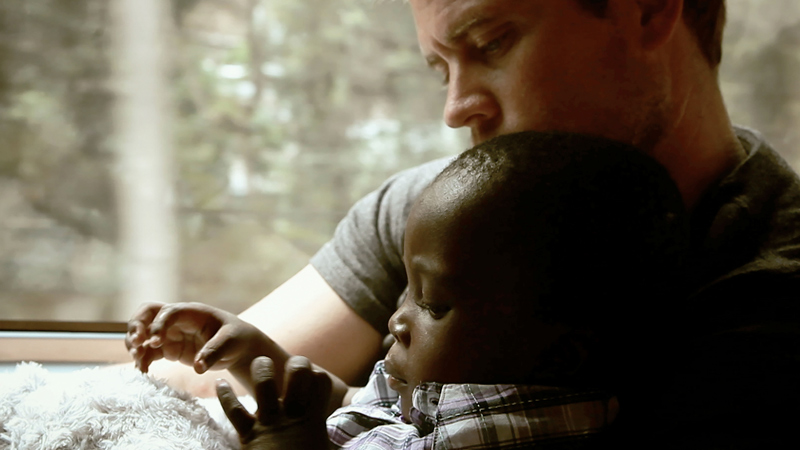 During his search, he noticed a four-year-old girl following him. Concerned that he would draw attention to himself with her trailing him, Ballard pulled out a candy bar and handed it to the starving child, telling her to take it outside and eat it. 
Her reaction surprised him.
"If I were to give most children a candy bar, they would hide it and then come back later claiming never have gotten one," says Ballard. "This little girl, who was on the verge of starvation, breaks it in half and runs over to me and throws the other half into the hands of this little boy I'm holding. And then I knew; they were siblings. And all they had was each other."
Touched by this gesture, Ballard approached the orphanage director and asked if the two children were siblings. She denied it at first, only concerned about the money that she would make from the deal and afraid to lose the sale of the little boy. When pressured, however, she finally admitted that the two were indeed siblings.
"But it doesn't matter," she told him hastily. "I will sell them separately."
Ballard instead bought them both. "I couldn't separate them," he confessed to the audience. He went on to explain that the next step of the operation was to visit a hotel where the deal would be finalized. This is also the location where Haitian law enforcement would arrest the orphanage manager and her daughter, and consequently liberate all 28 children in the orphanage.
"We were all sitting together in the van when the little boy that we had just purchased came running towards me and jumped into my arms," Ballard recounts.
The image depicts this three-year-old, trafficked child, cuddled up to his rescuer. "I know that that little boy knew who we were," Ballard said emotionally. "And as it turns out, this was the little boy's first car ride in his life; it was his ride to freedom."
To see Tim Ballard tell this story himself, take a look at 
this video
. For more information about Operation Underground Railroad, visit their website 
here
.
Lastly please take a few moments to watch this film introduced by one of the Founders of doTerra Emily Wright  where she talks about the background of Operation Underground and how doTerra are supporting these rescued children.
If you would like to support these children you can buy a beautiful essential oil called Hope where all of the profits go to OUR.
The oil is beautiful and contains Bergamot,Ylang Ylang, Frankincense, and Vanilla and is £20.40.   So you get a beautiful oil and the children get freedom and love.
Please email me on annette@feelinggorgeous.co.uk or go to my website www.mydoterra.com/fgoils to purchase.